Product News
NEW! Matrix 430 from TeeJet
We are pleased to introduce the new Matrix® 430 entry level guidance system. This compact unit provides easy to use, low cost, graphical guidance and is ideal for first time users. It builds on the successful CenterLine® 220 guidance product with several key enhancements.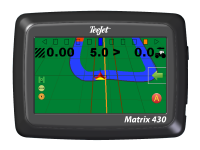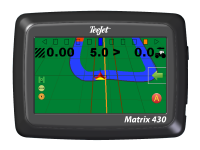 Key Features:
Versatile GNSS guidance in a compact package
Full-color, 110mm, graphical touchscreen display with superior outdoor performance
Support for both GPS and GLONASS signals
ClearPath™ technology for enhanced pass-to-pass accuracy where SBAS differential correction is not available
Choice of compact patch antenna or high-gain RXA-30 antenna
Simple setup and operation, with universal, icon-based menus
Coverage mapping allows operator to view skips and overlaps
Area counter measures overall field size and applied hectares
Implement status detect provides audible warning when entering applied areas
Basic reporting capabilities
Further information to follow.