BULLDOZER LIGHTS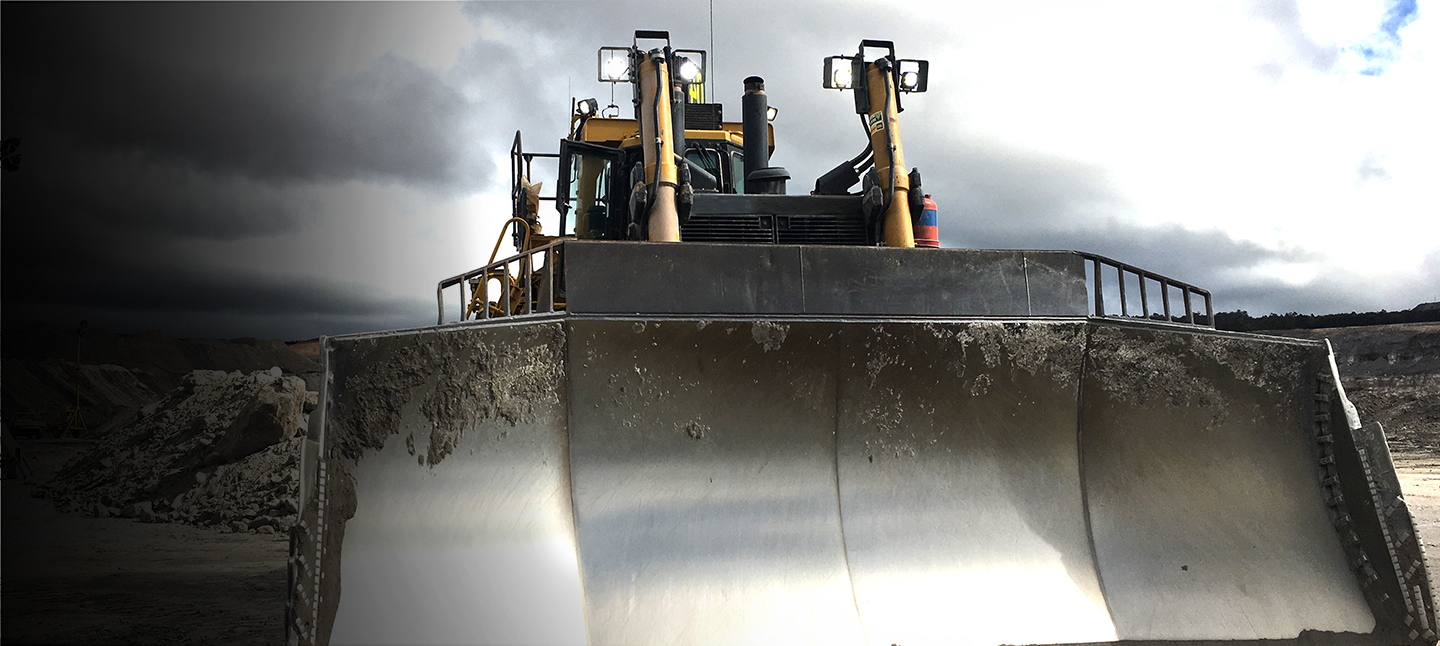 Bulldozer LED Lights
The bulldozer lays down the groundwork for the rest of your construction – make sure that it meets the rest of your standards. NORDIC LIGHTS® LED bulldozer lights make your daily construction tasks easier, safer, and more efficient. Whether you're looking for work lights or other special lights, our extensive range of heavy-duty LED lights has you covered in all areas.
Our LED lights suitable for mounting on dozers are all dustproof, waterproof, temperature- and weather-resistant, and have an extraordinarily long lifetime (30,000 to 50,000 hours) to ensure that you can keep your activities up and running for as long as possible. Upgrading to NORDIC LIGHTS® LED lights is one of the smartest and most cost-effective investments you can make.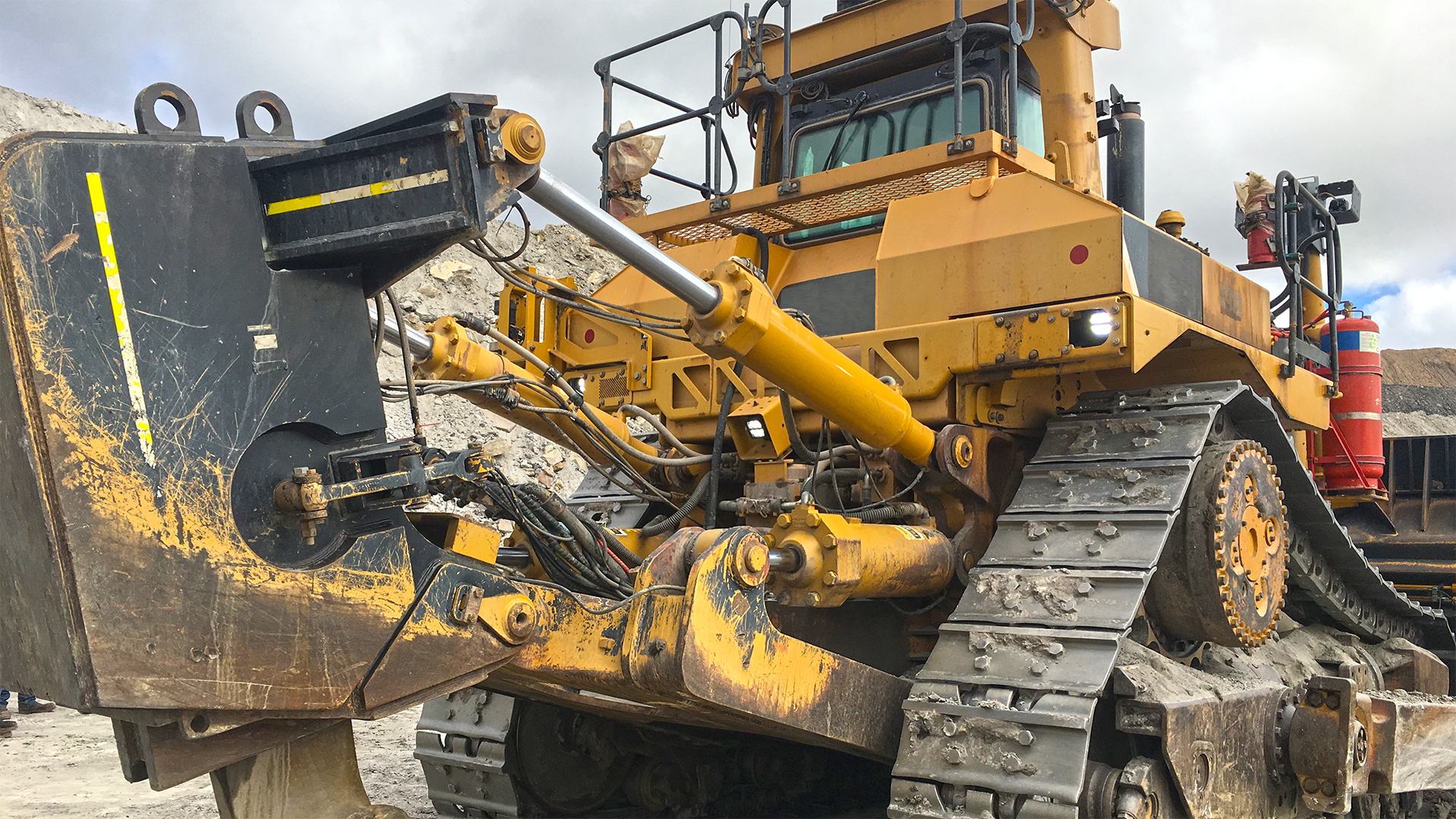 The Ultimate LED Lights for Your Bulldozer
NORDIC LIGHTS® LED lights are designed to provide you with the best possible vision and clarity from your bulldozer. Years of testing and R&D have led us to the point that we are comfortable in calling our work lights the best on the market.
Durability for Years
While LED work lights are a step up in price compared to halogen and HID (Xenon) lights, the initial investment pays itself over several times due to the long and hassle-free lifetime of the product. NORDIC LIGHTS® LED lights are virtually maintenance-free and have a lifetime of between 30,000 and 50,000 hours compared to 5000 for HID (Xenon), and 500 for Halogen. That means no more waiting for replacement bulbs or maintenance crews.
The individual high-quality LEDs are installed on a circuit board, which is then screwed into place inside an aluminum housing. Our lenses are made of different polymers or tempered glass, which have been hand-picked to suit the recommended applications. We test all of our lights before they are shipped out to the customer.
Our comprehensive warranty provides peace of mind that your LED bulldozer lights will continue working for many years without issues. The full details of our warranty policy can be found here.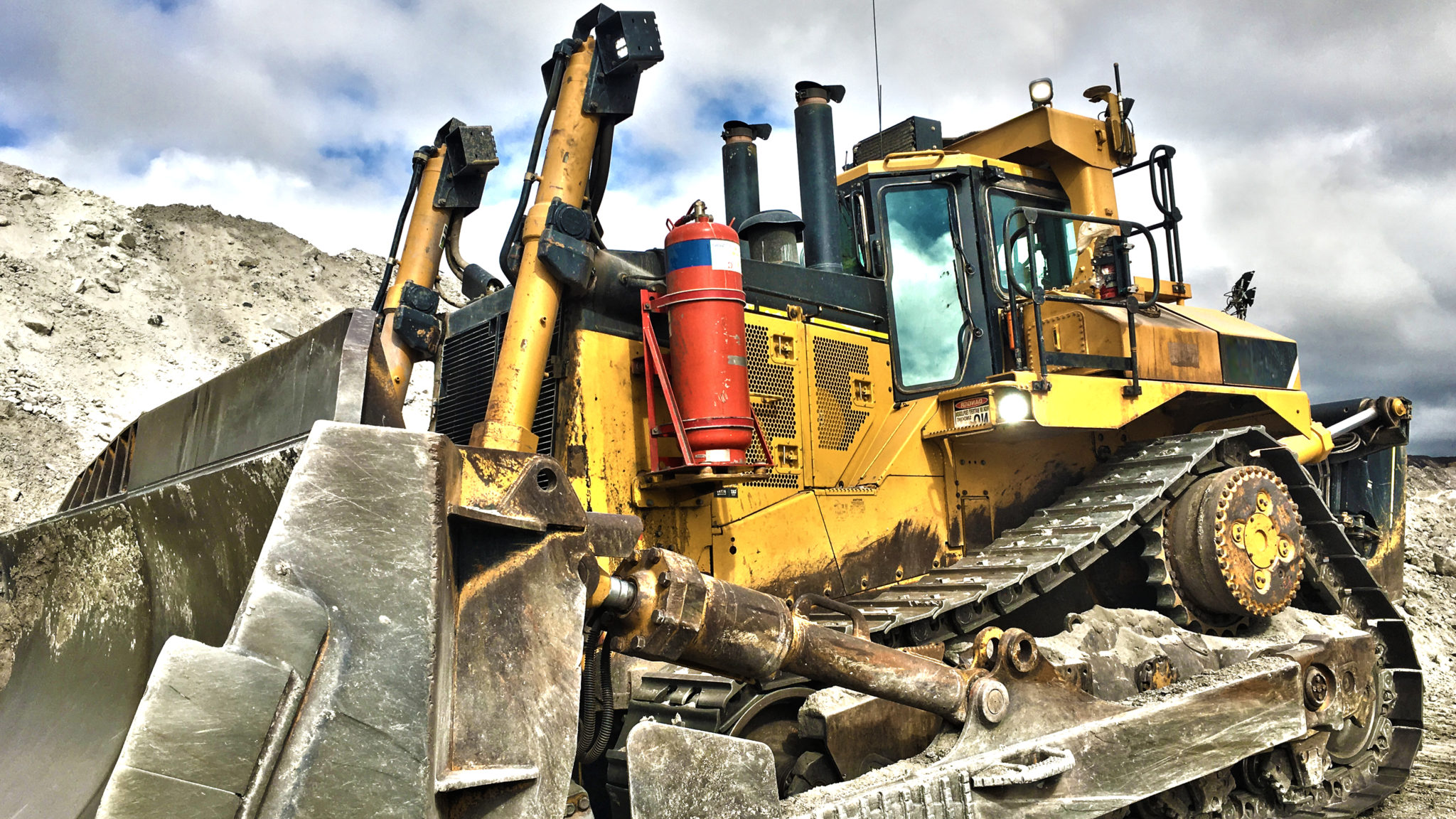 Smart Optics and Light Design
When you operate a bulldozer, the worksite is not only in front of you but all around. The light distribution of our work lights eliminates sharp contrasts between dark and bright, giving you a more comfortable working environment with less eye strain. The lack of sharp contrasts is especially beneficial if you are operating a vehicle that produces a lot of vertical vibrations, such as a bulldozer. Most of our work lights are calibrated to a color temperature of around 5000 Kelvin, which has a proven energizing effect on the vehicle operator. Around 5000 Kelvin is ideal for working outdoors. The light is bright enough to keep you energized, yet yellow enough to avoid eye strain.
While the number of lumens is a good indicator of how much light a LED light emits, more lumens doesn't automatically make one light superior to another. Some manufacturers like to talk a LOT about theoretical lumens, however, the number of lumens does little to no good if the other parts aren't optimized for the LED chips. That's why we always measure and openly disclose the operational lumens value, which more closely resembles the actual amount of illumination you will get.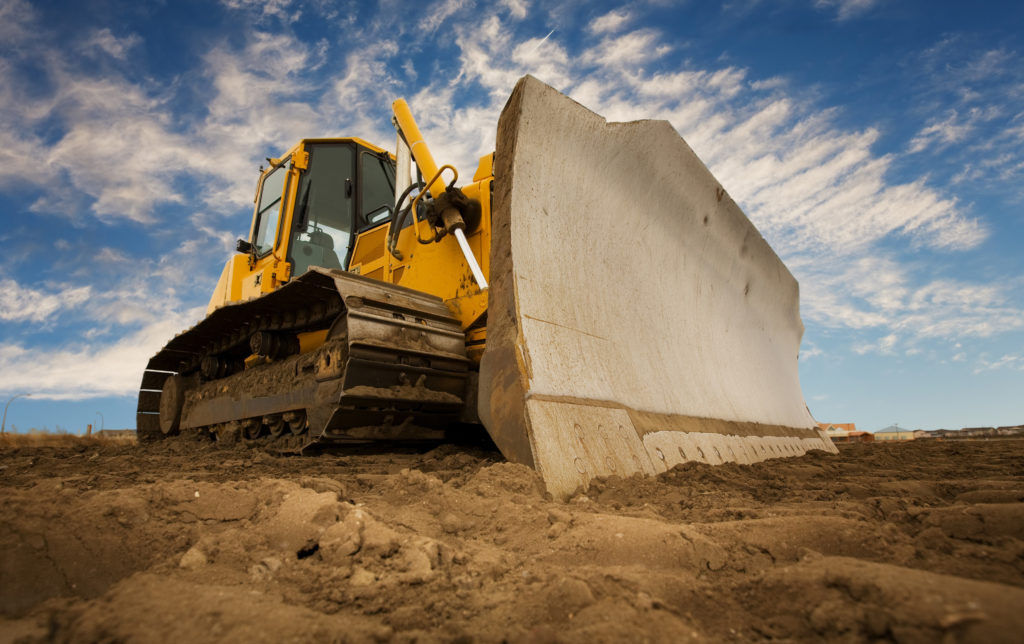 Prepared for Extreme Conditions
Whether you work in the scorching heat, or in frigid cold temperatures, you can rely on our LED lights. Rigorously tested in our in-house laboratory, all of our LED bulldozer lights are overheat-protected and remain fully functional from -40°C (-40°F) up to +85°C (185 °F). Essentially, even if the rest of your equipment overheats, your lights will stay on.
Furthermore, your new LED lights are easy to connect via the built-in waterproof, high-quality 2-pin Deutsch DT Connector. When used together with the supplied DT-plug, the system is waterproof. No external moisture will creep into the electronics of the light, which over time would cause it to short-circuit.
Walk with Giants
NORDIC LIGHTS® is the preferred LED light manufacturer for many of the world's largest manufacturers of bulldozers and other heavy-duty vehicles, including industry leaders such as Caterpillar, Liebherr, Sandvik, and Komatsu. Rest assured that you will always get the most up-to-date and cost-optimized LED lights for your vehicle. As a sign of our consistent quality, in 2020 NORDIC LIGHTS® received its third Caterpillar SQEP (Supplier Quality Excellence Program) gold. This means that Nordic Lights LED lights meet the high standards set by Caterpillar regarding quality, product documentation, and delivery performance. Click the link to find out more about the latest certification regarding NORDIC LIGHTS® LED lights for Caterpillar.
---
Bulldozer LED Work Lights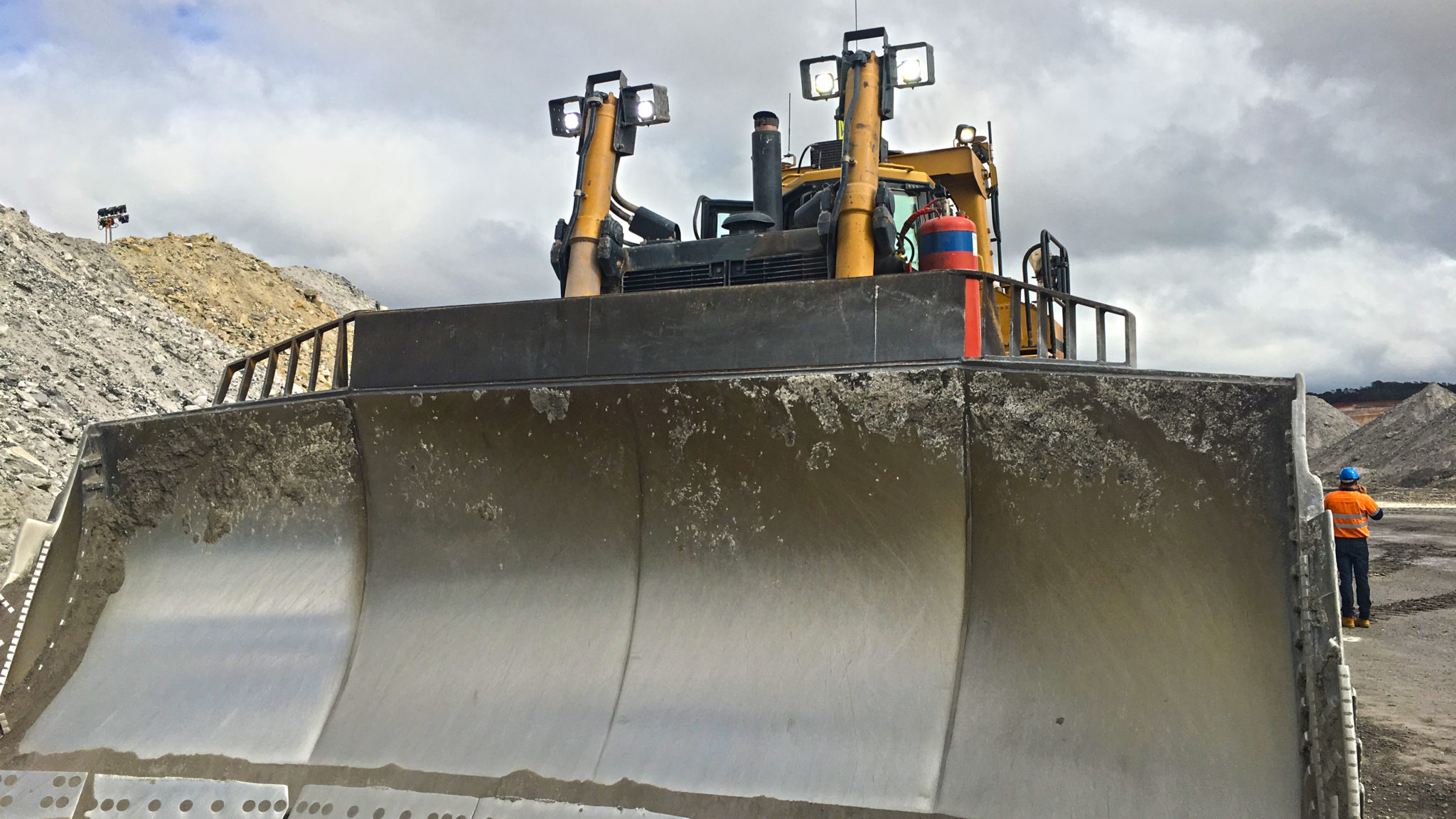 Be a Champion
If you're looking to upgrade from your current lighting, we recommend our heavy-duty PRO Series work lights. The PRO Series lights are a perfect fit for construction tasks and are made in several shapes, the most popular being our square and round alternatives. The light output is up to 4400 lumens, depending on the model. The PRO Series lights are built to last in tough conditions and can handle vibrations of up to 15.3 Grms with ease.
Easy Installation
Our bulldozer LED work lights are easily mounted with a bracket. We provide you with the bolt, nut, washer, waterproof connector, as well as the bracket itself. Simple as that!
Which Light and Light Pattern for My Bulldozer?
Picking the correct light pattern is important to get the most out of your LED work light. If you wish to illuminate wider distances, choose the tall and wide Wide Flood. If you need a narrower light distribution, choose a Flood light for maximum light intensity. If you need to light up longer distances, choose High Beam or Pencil beam. If you are in need of near-field illumination, we recommend picking a light with a Diffused light pattern, which has the widest available light distribution.
You can view all the available light patterns for each light under their respective product page. We measure the light distribution of each light pattern in lux, lumens per square meter.
Check out an example of the Scorpius PRO 445 Wide Flood light pattern below.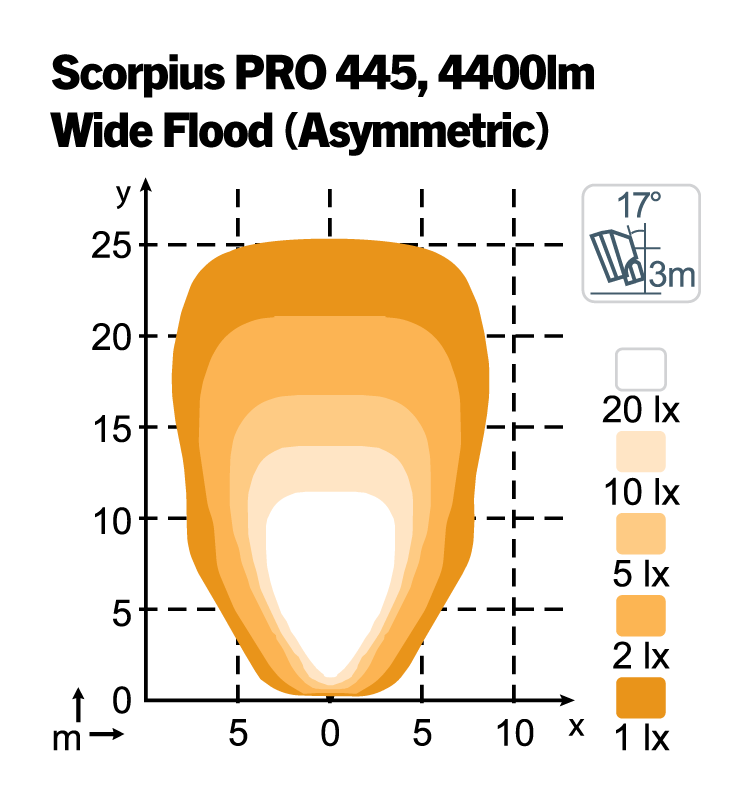 As you can see, the total amount of 4400 operational lumens is divided into an approximate area of 15×25 meters. The area right directly in front of the light is illuminated by 20 lux (20 lumens per square meter) while the area farthest away is illuminated by 1 lux.
Unlike many work light manufacturers, we measure the light distribution with the sensor parallel to the test plane in order to replicate the actual lighting conditions for the operator. Many manufacturers measure their lights directly towards the test sensor, which gives a better but very unrealistic result.
LED Work Lights for Bulldozers
Our Professional setup for bulldozers consists of 8 Scorpius PRO 445 Wide Flood on the vehicle body, 4 Scorpius XTR N4401 QD Wide Flood directly above the blade, and a Canis PRO N2001 illuminating the area behind the bulldozer. We think the pictures speak for themselves.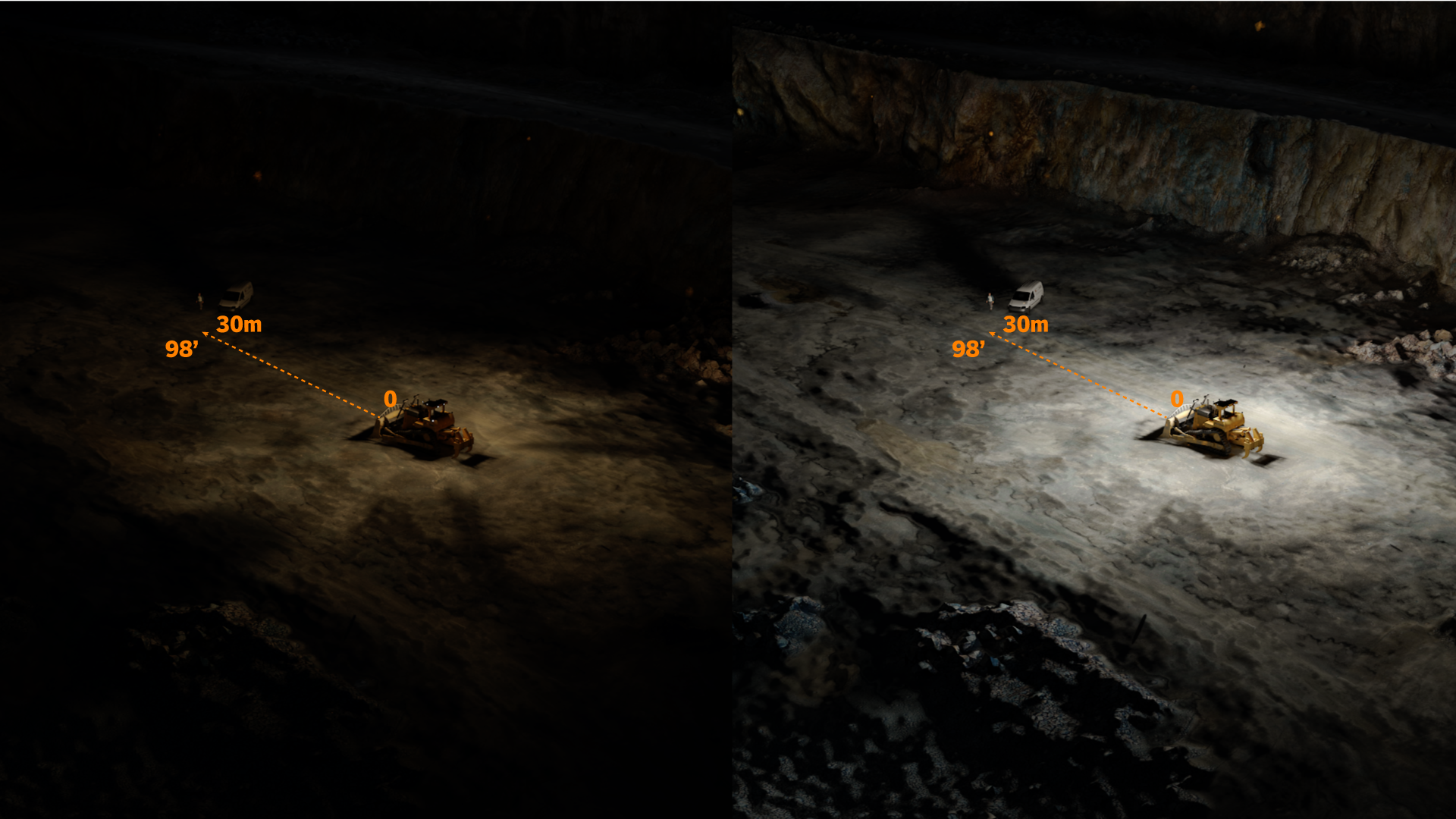 Simulated comparison of Halogen lights vs. Nordic Lights LED lights. The measurement of 30 meters (98 feet) is an approximated value. Click the image to view the full-sized picture.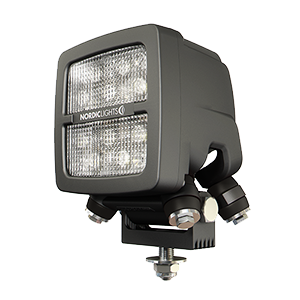 ---
Scorpius N4401 QD