SJ7A-VR STREAMJET
VARIABLE RATE FERTILIZER TIPS
The SJ7A-VR line of variable rate fertilizer spray tips feature a variable diameter orifice that produces a wide range of flow rates - it's like having five-tips in one. This allows for a wider range of ground speeds and/or application rates from a single tip for improved productivity. These tips are also ideal for variable rate prescription map applications. The elastomer metering orifice provides consistent flow rate performance while utilizing a simple, reliable design with no springs or moving parts.
FEATURES:
• SJ7A-VR tip produces seven identical fluid streams for excellent distribution quality in broadcast applications.
• Solid stream pattern minimizes leaf burn and virtually eliminates drift.
• Acetal body and deflector plate construction for good wear life and chemical resistance.
• Simple, elastomer (EPDM) variable orifice for reliable operation.
• Recommended operating pressure: 30-80 PSI (2.0-5.5 bar).
• SJ7A-VR are intended for use with flow meter based control systems only.
• Multiple capacities available for wider range of application rates.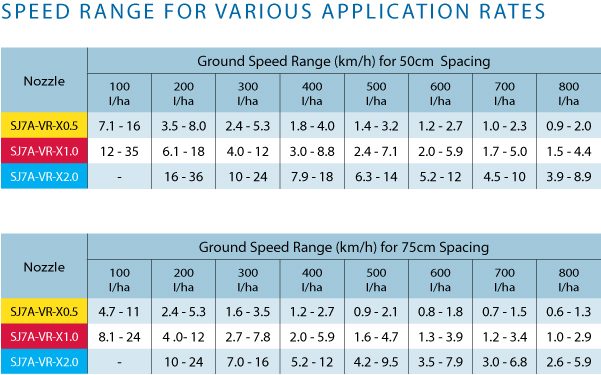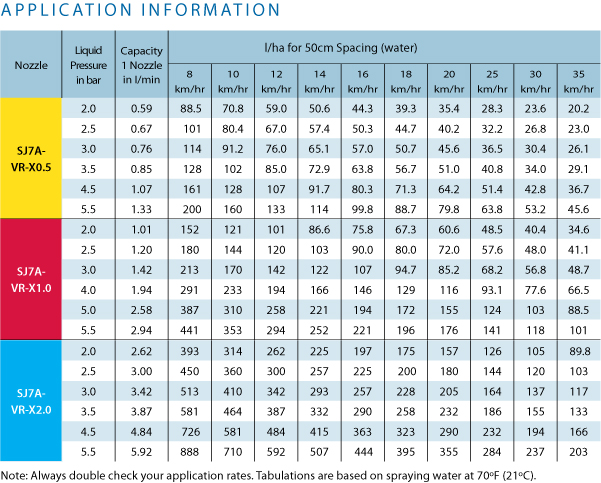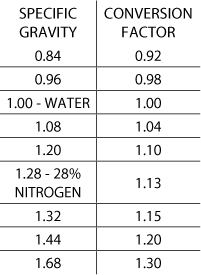 *NOTE: Conversion factors must be used when spraying solutions heavier or lighter than water. First, multiply desired application rate by the appropriate conversion factor above. Then use the new application rate to select the most approriate operating pressure from the application chart on this page.